"Land Pattern Series #3"
17 ¼ x 27 ¾ Framed

Oil/Canvas
$1920
Available from
Allen Fine Art Studio
Denver, Colorado
303-752-2029
leslie@allenfineart.com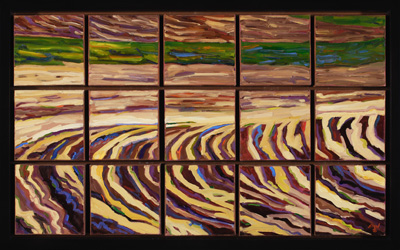 15 Abstracted pieces framed as one landscape. I did these small 5x5 canvases some time ago. They were intended to hang flat, all together on a white wall with a small space between. Which
would require a laser beam to hang them. That never happened so I had them framed as one landscape just for the "Landscape to Abstract" show September to December 2014.