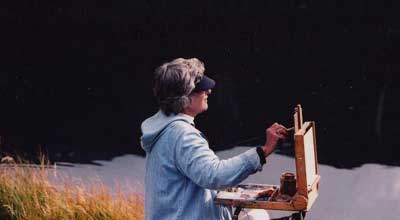 "The freshness and spontaneity of a Plein air painting, the feelings I'm experiencing at that moment, the vibrant colour and the dynamic brushstrokes; that's what my paintings are all about. No matter what I paint, my connection to the land………that is what comes through in the painting. I'm inspired by nature. I fell in love with painting from life when I was 12 years old, painting beside my grandfather, a Canadian artist, who told me to 'paint what you see'. I paint with oils. It goes back to my memories of painting with my grandfather, with oils. Lately, I'm trying new mediums but I always go back to oils. In the beginning of this grand adventure I wanted to paint; now I have to paint.
Biography
Leslie is primarily known as a prolific Plein Air painter. Recently, she is receiving accolades for her larger "Abstracted" studio works.
She studied at the Art Students League Denver with Mark Daily, Kim English, Quang Ho, Emanuel Martinez, Jay Moore, Dale Chisman and others.
Leslie Allen is an Emeritus/Signature Member of Women Artists of the West, a Founding Emeritus/Signature member of Plein Air Artists Colorado, and an Associate Member of Oil Painters of America, and International Plein Air Painters. Leslie was juried into the International Plein Air Painters World Tour in 2008. Her work hung in the 2014 Colorado Governor's Show. This award-winning Plein air oil painter produces colourful, intimate landscapes infused with light, that translate feelings and impressions onto the canvas. Leslie has presented ten one-person shows. Over her thirty year career she has been awarded two "Best of Shows", "Best Impressionistic Painting", several Honorable Mentions, 1st Places, and Awards of Merit. A 2012 Honorable Mention at PAAC at Wilder Nightingale Fine Art Gallery in Taos, NM; a 2010 Honorable Mention Award at PAAC at Saks Galleries; WAOW Irvine Museum Award, Olaf Wieghorst Museum, CA; 2009 Meininger Award, Saks Galleries, Denver; 2007 WAOW Fine Art Connoisseur Award of Excellence, Chicago, IL; 2006 3rd Place Award of Merit, Estes Park Plein Air; 2005 Juror's Choice Award, Central City, CO; 2004 "Best in Show" Rocky Mountain Plein Air Painters Miniature Show; 2002 "Best Impressionistic Painting" National Oil & Acrylic Painters Society, MO. One of her popular "Land Pattern" Series pieces was recently acquired for the new CoBank Center in Greenwood Village, south Metro Denver.
The 2012 June Issue of Southwest Art featured one of her larger pieces from the Water Reflections Series; the award-winning piece, "One Purple" was featured in Southwest Art 2010 June Issue. Her magpie piece "Solitary" was honored to hang in 2010 at Denver International Airport and in 2011 at the Colorado State Capitol and her magpie piece "Waiting" was featured in the 2003 September/October issue of Wildlife Art magazine. "Red-Winged Blackbirds" was featured in the 2007 November/December issue. Reproductions of her images are in the Hilton Hotel in Omaha, the Aspen Grand Hyatt, and the Milwaukee Hyatt. And her images have graced the cover of CD's. Her work is in collections across the US and Canada, South America, England, Australia, and Germany.