"Landscape to Abstract"
September/October 2014 - Castle Rock (CO) Adventist Hospital
November/December 2014 - Littleton (CO) Adventist Hospital and
"Virtual Exhibition"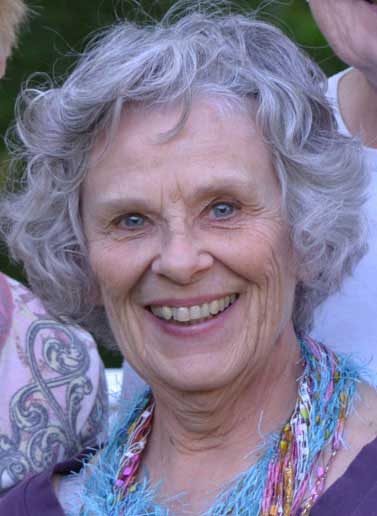 Statement
I've been thinking about this show for some time. I am a "Plein Air Painter". Or I used to be until Macular Degeneration started to rob me of my eyesight. But not my vision! I knew I'd have to reinvent myself as a studio painter where I can control the light so that I can see better…..and paint with my nose if I have to!
I started to look around the studio at the hundreds of Plein Air pieces that are finished, many not. I always saw the "abstract" elements in nature and I had studied for several years with the nationally renowned Abstract painter, Dale Chisman. I had dabbled in "Abstracted Landscapes" which Dale encouraged me to continue before he died. And very recently I received a compliment that they reminded someone of Thiebaud!
I picked some pieces that I thought would lend themselves to abstraction. I studied the shapes, colours, compositions, shadow shapes and light shapes. I started thinking about a series of abstracts from landscapes……."Landscapes to Abstracts". And I would push them as far as I could to the abstract, perhaps several per subject?
I started at the beginning of the year and figured on doing two per month which would give me a show of about sixteen pieces. I started journaling the process. I didn't count on the fact that some came quickly and others not so much. Some of the pieces started talking to me and dictated what they wanted to be! About half way through I really wanted to push them further than they were going so I started cropping location photos and some of the finished pieces to arrive at more abstract pieces. And I turned them a lot while painting them. The last three pieces are starting to get to what I envisioned!
At the end of June my husband became seriously ill and was hospitalized. So the Series has taken a back seat to looking after my honey. This Series is still a work in progress! I will paint more abstracts but the landscape will always be my inspiration.
Biography
Leslie is primarily known as a prolific Plein Air painter. Recently, she is receiving accolades for her larger "Abstracted" studio works.
She studied at the Art Students League Denver with Mark Daily, Kim English, Quang Ho, Emanuel Martinez, Jay Moore, Dale Chisman and others.
Over her thirty year career she has earned many awards and has been asked to judge her peers. She has been awarded two "Best of Shows", "Best Impressionistic Painting", several Honorable Mentions, 1st Places, and Awards of Merit. She was invited to show at the 2014 Colorado Governor's Show. Her work has been featured in Southwest Art, Wildlife Art and hung at DIA and the State Capitol. Her images are in the Hilton Hotel in Omaha, and the Aspen Grand and Milwaukee Hyatt.
Leslie is a member of PAAC (Founder/Emeritus), WAOW (Emeritus), and OPA and IPAP (Associate). Her work is in collections across the US and Canada, South America, England, Australia, and Germany.
"Landscape to Abstract" in September/October 2014 is her eighth Solo Show. www.allenfineart.com
---
All Paintings are 24x24 Oil/Canvas unless otherwise noted. Unframed, painted edges, $1500 each. The Plein Air Sketches are not for sale at this time. The paintings are not varnished but will be before purchases are shipped. All sales will be via Paypal.
Please contact the artist 303-752-2029 for information.

1. Thinking of Ted

"Thinking of Ted II"
Above is the Plein Air piece I did in the Texas Hill country. I was thinking about Theodore Waddell's wonderful cow paintings while I did it!

"There is an alchemy about oil paint that defies explanation" - Theodore Waddell.

I undercoated with red; I wanted the warm red to penetrate the green grass when finished. I liked the placement of the cows so I kept to that but added more "groupings of cows" from photos.

"Thinking of Ted III"
I primed this canvas with a loose ultramarine wash. Note: "Thinking of Ted III- but he hasn't arrived yet!" Initially the cows looked too much like cows! Started over in an "Abstract Point of Mind"! I started listening to "Music for Meditation & Healing" while working and continued listening to it almost throughout the series. At this point, I started moving on to the next ones in the series and was painting on several pieces at once.

2. Sedona Abstract


©"Sedona Abstract" PA

"Sedona Abstract II"
I liked the flat shapes of the block in with pencil. So I went with the flat coloured shapes! Later added some gradation of values within the shapes, and flattened the green shapes on the right. This one sticks pretty closely to the PA sketch but I like it!


©"Sedona Abstract II-2"

"Sedona Abstract II_2"
For this one, I cropped "Sedona Abstract II" and printed it in Black and White and turned it frequently to see the orientation. From there it was totally abstract to my mind's eye as I worked. I was able to play with the colours!


©"Sedona Abstract III" PA

"Sedona Abstract III"
This PA Sketch was done during a Sedona workshop. I had a terrible time seeing the values in the landscape. I knew then that would be my last workshop and that I couldn't paint out in the bright sunshine again. I was so discouraged and sad. But this piece in the studio came very easily and encouraged me to keep on painting!

"Sedona Abstract III_2"
This is the first one that I did from cropping an image of the previous painting. I turned it several times during the painting process before I arrived at the orientation it wanted to be in! I was really enjoying painting the "hard" edges.


©"Winter Stream" PA

"Abstracted Winter Stream"
I love painting in the winter with the PAAC! Again, I was struggling due to the bright sunshine. This one wasn't speaking to me at all. I even recruited a talented artist friend to help me. Eventually it actually dictated what it wanted to be. I had very little to do with it, except to put paint on the canvas. It sticks pretty tightly to the PA sketch, colours, values and shapes. There will be another cropped one from this one!


©"Abstracted Winter Stream II" Source: Location photo for above


©"Abstracted Winter Stream II"

"Abstracted Winter Stream II"
This piece is very close to the image but there are many abstract elements in the water and after trying the right bank with the underlying grays/mauves, I purposely did the snow with a palette knife to be flat (like it better!) in order to set off the lovely colour/light notes in the water - a lot of work there!

"Abstracted Winter Stream II_2"
Finally this one gets me to where I want to be! The cropped version of the above piece which is the "Abstract"! All the attention is on the thick ice and the colours in the water.


©"Sneffels Autumn" PA


©"Sneffels Autumn Abstracted"

"Sneffels Autumn Abstracted"
This PA piece was painted on a trip to the Western Slope in 2005, on Miller Mesa. While painting the studio piece, I had on my mind a piece by Alan Sofer, "Luminous". I painted over a lot of details in this one, struggling to get it more abstract.


©"Sneffels Autumn Abstracted II"

"Sneffels Autumn Abstracted II"
With this one I'm going for straight out "pretty" with some of my favourite colours! Cerulean Blue, Yellows, Quinacridone Violet, Magenta wash. It takes guts to leave an area of the canvas with almost no paint! When we were kids we went "into the woods" to play and I feel like I am returning to the woods back home. Sadly "our woods" are all developed now. This is one of those you have to see to appreciate the brushstrokes and paint applied with a palette knife.

6. Autumn at Lily Lake


©"Autumn at Lily Lake" PA


©"Autumn at Lily Lake II"

"Autumn at Lily Lake II"
Almost every Autumn for several years, I have painted with a friend from Texas in RMNP. This one was at Lily Lake looking towards Long's Peak. The scene attracted me because of the colours. I tried something different, painting in the shapes with acrylic. Then painting over it with oil.

Stay Tuned

©"Autumn at Lily Lake II-2" Oil/Acrylic/Canvas

"Autumn at Lily Lake II_2"
Stay tuned for the cropped version of this one!

7. Red Rocks

"Red Rocks Abstracted"
I painted with PAAC at Red Rocks in April, and I rubbed it! I just couldn't see the value differences in the rocks. I was so disgusted with myself that I painted it in the studio by using the sketch and a black and white photo reference. I really like the result!

"Red Rocks Abstracted II"
This is the cropped abstracted piece from the studio piece above. I feel like I'm finally on the right track. Can you see where it came from?